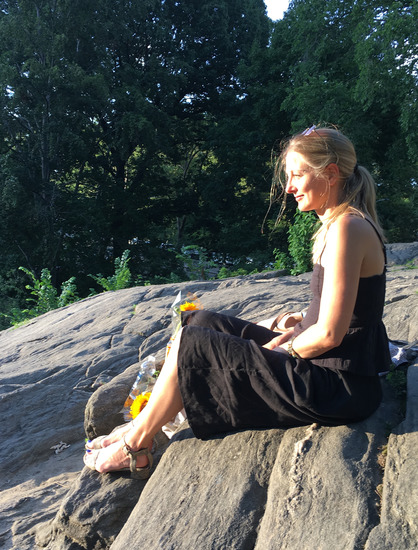 Photo by Diana Erdos, 2017
Mixed media, installation artist, Nicola Ginzel, lives in Williamsburg, Brooklyn, and works at the Old American Can Factory in the Gowanus. She had her first ten–year retrospective and traveling museum exhibition,"
Language, Symbol, Artifact,"
at the Tennessee Valley Museum of Art. Other selected solo exhibitions have been at Cathouse FUNeral in Brooklyn; Jenny Jaskey Gallery in Philadelphia; Corridor Gallery in Reykjavik, Iceland; Heskin Contemporary in NYC; and most recently (2017-2018) The Gallery@1GAP curated by Spence Projects in Brooklyn, NY and SEASON, curated by Robert Yoder in Seattle, WA.
Selected group exhibitions include the upcoming exhibition at FreedmanArt (2018) curated by Carter Ratcliff; Distilled at Bernard Jacobson Gallery, NY; NARS Foundation in Brooklyn, NY; Back In Situ at Centotto in Bushwick, Brooklyn; and Cindy Tower's curated guerilla shows like "Brookworld," and "Coat Check," at MoMA in 2000.
Her work has been selected in juried exhibitions by curators like Omar Lopez–Chahoud, Jonathan Thomas, Lisa Phillips of the New Museum and Bill Arning of Contemporary Arts Museum Houston. Her Frottage Prints— created by using her own embroidered, transformed ephemera as a printing plate—have been coined the "Ginzel Method" in the book,
Playing with Sketches
. Her artwork has been featured internationally and nationally by venues such as New Art TV, Time Out New York, The Philadelphia Inquirer, The Chicago Tribune, Art in America, Artcritical and most recently, by
John Yau in Hyperallergic.
Nicola was nominated for a Louis Comfort Tiffany Grant and has been the recipient of grants from the Mayer Foundation, Max's Kansas City Project, and Artists' Fellowship Inc. in 2016. Residencies include SIM—The Icelandic Visual Arts Association and Reykjavik Art Museum Residency; The Skaftfell Cultural Center Residency in Seydisfjördur, Iceland; and BoxoPROJECTS in Joshua Tree, CA in 2016. She has been artist assistant to Roni Horn, Donald Lipski and Donna Dennis, and manager of The Printmaking Workshop in 1995, now known as the EFA Robert Blackburn Printmaking Workshop Program in NYC.
________________________________________________________________
New York Contemporary Art Critic,
Lilly Wei writes:
From the mass-produced and damaged, from the ephemeral, Ginzel—who thinks of herself as a mixed media artist but whom I think of as a mixed media poet or just simply a sorceress—creates delicate, hand-made and very beautiful objects that suggest reliquaries, amulets, and archeological fragments, distillates of memories and feelings. …
The constant solacing repetition of touch also bespeaks of love and healing, warming the work with their invisible presence. … Essentially, her work is based on the human factor, in some ways a branch of "philosophical anthropology," or equivalent to a "shamanistic" ritual, Ginzel explained, its visual language both rare and ecumenical, her offerings something to be shared.