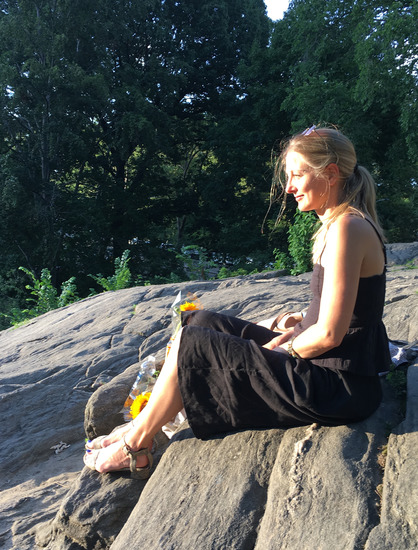 Austrian-American, mixed media and installation artist, Nicola Ginzel, received her degree in Printmaking and works primarily in frottage and object transformation.
She is a 2023 Pollock-Krasner Foundation Grant Awardee; a 2022 Café Royal Cultural Foundation Visual Arts Grantee; and a 2019-20 Fulbright US Scholar Grantee. She has received support from the Austrian Cultural Forum New York for both recent solo and collaborative projects; support from Arts Council Malta for the collaborative project 'Sonos Civitatem, MMXX' with Composer Mariella Cassar-Cordina; and support from the 'Austrian American Partnership Grant' through the US Embassy in Vienna. She is part of the Creatives Rebuild New York Program through the 2022-23 'Guaranteed Income for Artists' Grant.
Art residencies include Q21 at the Museumsquartier in Vienna, Austria, in 2020; BoxoPROJECTS in Joshua Tree, California; SIM The Icelandic Visual Arts Association, Reykjavik Art Museum Residency; and The Skaftfell Cultural Center Residency in Seydisfjördur, Iceland.
She had her first ten–year retrospective and traveling museum exhibition '
Language, Symbol, Artifact'
at the Tennessee Valley Museum of Art. Selected solo exhibitions have been at Cathouse FUNeral curated by David Dixon in Brooklyn; Jenny Jaskey Gallery in Philadelphia; Corridor Gallery in Reykjavik, Iceland; Heskin Contemporary in NYC; 1GAP Gallery in Brooklyn; and FreedmanArt co-curated with Carter Ratcliff in New York City.
Selected reviews are published in Artcritical by Stephanie Buhmann, Art in America by Janet Kopolos, The Philadelphia Inquirer by Edith Newhall, Blouin Modern Painters, Time Out New York, New Art TV, The Chicago Tribune, Tussle Projects by Jonathan Goodman, and Hyperallergic by John Yau. Quoted from the 2018 article 'An Artist who Turns Detritus into Talismans,' Yau writes:
Ginzel's interest in transformation and the inherent healing power of certain materials connects her to artists as disparate as Yves Klein and James Lee Byars. I can associate what she does with a wide range of very other artists — from Hilma af Klint and Emma Kunz to Joseph Cornell, Philip Hanson and Antonin Artaud to Outsider artists — but in the end they all fall away. Her use of sewing to draw, write, and stitch defines a territory that is all her own.