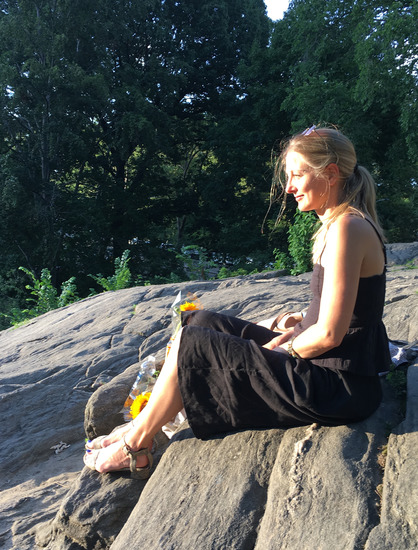 Photo by Diana Erdos, 2017
Austrian–American Artist, Nicola Ginzel, has been working as a mixed media, installation artist for 25 years.
She had her first ten–year retrospective and traveling museum exhibition,"
Language, Symbol, Artifact,"
at the Tennessee Valley Museum of Art. Other selected solo exhibitions have been at Cathouse FUNeral curated by David Dixon in Brooklyn; Jenny Jaskey Gallery in Philadelphia; Corridor Gallery in Reykjavik, Iceland; Heskin Contemporary in NYC; The Gallery@1GAP in Brooklyn making David Cohen's (Artcritical) THE LIST; and 'Hiding in Plain Sight Objects Common and Curious' curated in collaboration with Carter Ratcliff at FreedmanArt in New York City in 2019.
Residencies, grants, and projects include the following—support for the collaborative project, 'Sonos Civitatem, MMXX' with Composer, Mariella Cassar Cordina, from the Malta Arts Council, 2021; the Austrian American Partnership Grant through the US Embassy in Vienna to support the project, 'Psyche and Commerce: The Realignment of the Nail Tree Talisman,' 2021; the Q21 Artist-in-Residence at the Museumsquartier in Vienna, Austria, made possible by receiving the 2019-20 Fulbright US Scholar Grant; SIM—The Icelandic Visual Arts Association, and Reykjavik Art Museum Residency; The Skaftfell Cultural Center Residency in Seydisfjördur, Iceland; BoxoPROJECTS in Joshua Tree, CA; and the most recent collaborative project '10001' supported by the Austrian Cultural Forum in NYC and organized by Undercurrent Gallery in Brooklyn, NY, first as a virtual project in 2020 and upcoming as the Exhibition UN/MUTE at the Austrian Cultural Forum in NY and Undercurrent Gallery in Brooklyn, September 2021.
Selected reviews include Artcritical by Stephanie Buhmann, Art in America by Janet Kopolos, The Philadelphia Inquirer by Edith Newhall, Blouin Modern Painters, Time Out New York, New Art TV, The Chicago Tribune, and by John Yau in Hyperallergic. Quoted from the 2018 article 'An Artist who Turns Detritus into Talismans,' Yau writes:
Ginzel's interest in transformation and the inherent healing power of certain materials connects her to artists as disparate as Yves Klein and James Lee Byars. I can associate what she does with a wide range of very other artists — from Hilma af Klint and Emma Kunz to Joseph Cornell, Philip Hanson and Antonin Artaud to Outsider artists — but in the end they all fall away. Her use of sewing to draw, write, and stitch defines a territory that is all her own.